Author: Sam Lawson

published: Mar 02, 2017 | last updated: Apr 06, 2023
Update: Since we originally published this article in 2017 a few things have happened on the island, firstly the pandemic took it's toll in 2020 and then just when tourism was slowly recovering Siargao took a direct hit from a powerful typhoon in late 2021. The typhoon devasted much of the island wiping out homes, resorts and the iconic coconut palms that cover the island. The recovery is well on it's way though and Siargao is getting back on it's feet, ready for a new influx of tourists in 2023.
Siargao island in the Philippines is still relatively unknown outside the surfing community, but it offers so much more than just surfing for nature lovers and those wishing to really get away from it all.
Warning: If you like sitting in a 5 star resort, being hassled on a crowded beach by vendors or fighting for an empty part of the beach then Siargao is not for you. Siargao will be appreciated by the adventurous, who love natural beauty and exploring empty beaches.
Getting There
Siargao is still quite hard to get to, until recently no direct flights flew from Manila to Siargao - you only had the option of the Cebu Pacific flight to Cebu and then onto Siargao in an ATR plane. A less convenient but cheaper option is to fly to Surigao city or Butuan city and take a 2.5hr ferry ride to Siargao island from Surigao port (Butuan to Surigao port is an extra 2.5hr van ride). The last ferry will leave around lunch time, so if you do take this route choose the earliest flight from Manila to give enough time to reach Surigao port.
From late February 2017 Skyjet will start offering a direct Manila to Siargao flight, not only will this make flights easier and cheaper it will be a big change for the island. Lets hope development is controlled and well planned for this little paradise. The most enticing part of Siargao is that it is so far unspoiled and almost pristine - a real paradise island.
Update: A casualty of the pandemic - Skyjet are no more, and are not running flights to Siargao anymore. However Philippine airlines are now running regular flights to the island.
Surfing
Siargao is best known for it's world class waves, especially Cloud 9 surf break which holds an international surfing competition every September. Apart from Cloud 9 there are many other breaks often reached by boat because they are on outer reefs. The best time for surfing is probably August and September when the winds are light and offshore and the waves should be pumping. From December until March the north easterly trade wind blows onshore - and while the waves can be huge at this time - they are often more messy because of the onshore winds.
Things To Do
Apart from surfing - or taking surfing classes if you want to learn, the island has much to explore if you appreciate untouched islands and super clear waters for swimming, snorkelling or diving.
Kiteboarding and Windsurfing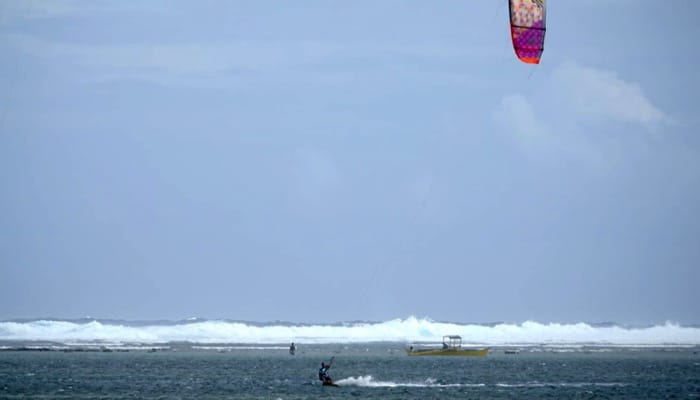 There is wind at times for kitesurfing and windsurfing, though the wind is no where near as reliable or strong as places like Boracay in the central Visayas region of the Philippines. The most used kite size is 15m and for windsurfing a sail around 7m would get the most use. If your main activity is kiteboarding or windsurfing then try Boracay or Palawan from December until April. Or for wind and waves try Pagudpud in Illocos Norte (the very northern tip of Luzon island). In Siargao a few kitesurf schools are already established in the big lagoon area near General Luna, which is shallow all the way to the reef and perfect for learning.
Magpupungko Rock Pools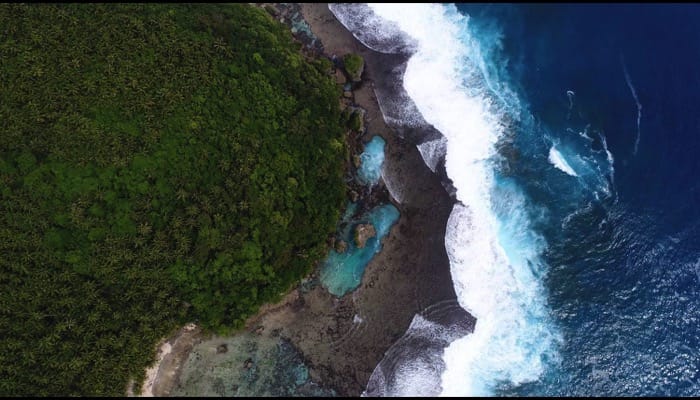 Magpupungko Rock Pools are 1 hour North from General Luna on a motorbike or by van, you'll find them shortly after the town of Pilar. Make sure you visit at low tide (you can check the tide here). You can snorkel, jump from the rocks or just swim in the rock pools which are great at low tide, becareful if the tide has risen - as soon as waves start to reach the pool it's not safe, especially if the swell is big at that time.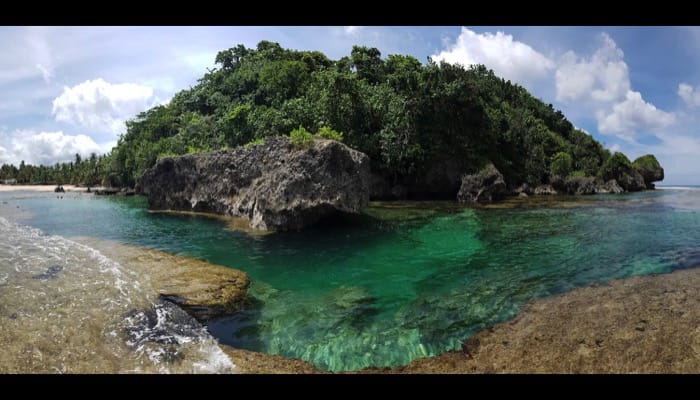 Pacifico is only 20-30 minutes further north from the rockpools. This is mainly a surf spot - and a very good one for experienced surfers. If you're just passing through try lunch at the Bamboo Garden Resort, they have great Pizza, Pasta and Panini.
Island Hopping
From General Luna you can take island hopping day trips to Naked island, Dako island and Guyam island (usually in that order).
Naked island is a sand bar with no shade, people rarely stay long there.

Dako island has some gorgeous sand and azure pristine waters. You'll also find some drinks and food available here. People tend to spend the afternoon lounging on the shores until moving onto Guyam island.

Guyam island is a picture perfect tiny desert island covered in Coconut Palms, it makes a great last stop to hang out and watch the sunset before returning to shore.
Sohoton Cove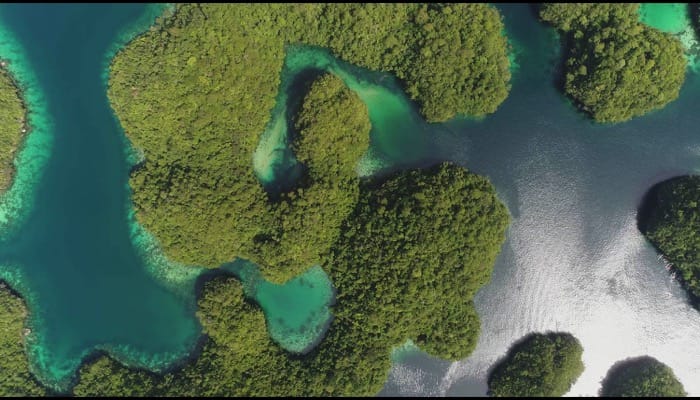 Sohoton cove is 2 hrs south by boat from General Luna, it sits on the southern tip of Bucas Grande island. Although the boat ride is a little pricey and the trip far it's definitely worth it. Once you reach a visitors center and pay the fees you will have a guide boat take you into into the cove. And here is the unique part of Sohoton cove - it's complex of tiny islands and lagoons is only accessible via a single cave and only at low tide. It's a truely magical experience as your boat emerges from the cavern into the "secret" cove.
Try to go at a quiet time (not a weekend or holiday) and again check the tide times before going. Once inside your guide will take you to two partially submerge caves, the first of which you can swim in. The 2nd cave has winding path to climb amongst stalactites and stalagmites before emerging at a diving platform 20ft above the lagoon - given how hard the climb is - there is pretty much no backing out - you have to jump! After leaving Sohoton cove you will get the chance to visit a stingless jelly fish lagoon in a tiny boat paddled by another guide. The jelly fish are most common in April and May.
Sugba Lagoon
Sugba lagoon is reached from Del Carmen town on the west side of Siargao. When you reach the visitor center you will take a small boat after being given a quick briefing about the area. The boat ride passes through some beautiful mangroves which are home to over 3000 salt water crocodiles. Sugba lagoon itself is hidden inside a small island off the coast. There you can explore by paddle board, snorkel or dive from the instagram ready ramshack wooden diving board.
Places to stay in Siargao
There are lots of reasonably priced places to stay near General Luna and in the Cloud 9 area, regardless of where you stay you can easily get around with rented motorbikes (they all have surfboard carriers). Or if you don't rent a motorbike the local motorbike taxis are still pretty convenient. While there are many good resorts - here we list those that stood out in no particular order.
For cool vibes check out Harana resort on Tuason point which is also a surf break (swimming not possible), Harana has great Filipino food and a laid back surfer atmosphere. Harana has very limited rooms so you would need to book way ahead to make sure you get a room.

Has a great position near Cloud 9 and is well run, plus has a double level restaurant area situated above the water with an incredible view. A great place to eat lunch and enjoy the vista.

Situated right on the beach. This new resort has nice well priced rooms and a good spanish restaurant, a popular hangout spot during the evening.

Situated right on the beach, in the higher price range but has 2 pools, and a great view of the lagoon and reef. The rooms are large, luxurious and very well designed.

Situated right on the beach, another choice in the higher price ranges, with some great bungalows surrounding it's huge swimming pool.

Situated right on the beach, has some of the best rooms on the island and a great restaurant.

Formerly known as Dedon Island , this is an exclusive luxurious resort with a price tag to match. Not situated as you might imagine on a private island, it is actually 10 minutes down the coast from General Luna near to Malinao.

Kermit Resort

A popular resort positioned 5 minutes from the beach with one of the best restaurants on the island.

Budha's

Nice rooms and resort, situated around 200m back from the beach area and half way between General Luna and Cloud 9.
Best Food in Siargao
One of the highlights of a stay in Siargao is, may be surprisingly, the food. It's definitely worth trying the different restaurants offered by the resorts. The standouts in no particular order are:
Kermit Resort

To get there take the back road opposite Isla Cabana resort. For Italian cuisine, great pizza, pasta and calzoni. This place is regularly booked up every evening, we recommend making a reservation.

Bravo Beach Resort

For Spanish fare including Paella and Sangria. Try the delicious slow cooked Pork curry and the Tuna Tataki.

For the great menu and interesting vibe. Try the delicious shakes and mojitos.

Harana Resort

For Filipino food including the best kinilaw, adobo and sisig. Try the Arroz a la Cubana pictured here for breakfast.

Kalinaw Resort

For tapas, italian and seafood - plus a very nice atmosphere.

On the small hill before reaching Cloud 9 break. For breakfast bowls, coffee and shakes. Try the very healthy tasting "energy" balls.

Mama's Grill

Situated near Bravo Beach Resort on the main road. For simple tasty grilled meat and seafood this is the place to go.

Barrel Bar

Situated on the main road near Isla Cabana resort. The only place serving food after 10pm that we found.

Ronaldo's

Situated on the main road opposite Chill Out resort, good cheap grilled food. Try the pork adobo burger.
Have you been to siargao or have any questions? let us know in the comments below.